BUTTERCUP


Here is the first flower to start your garden for your Butterfly to play in

Materials:
1 x 6" embroidery hoop
1 x 4" embroidery hoop
Firm Background fabric in color of your choice - 30x20cm (12"x8")
Homespun or calico 30x20 (12"x8")
Homespun or calico 15x15cm (5"x6")
2 / 14" lengths 30 gauge white cake decorators wire
2 shades of yellow stranded cotton or rayon thread
Green stranded cotton
Fine crewel needle
Large chenille or knitter's needle
(In the sample I have used DMC 502 for the stems and leaves, and Rajmahal Art Silk 91 and 93 for the buttercup)
Rule a light line in washaway pen across your main fabric about two-thirds of the way down from the top. This will be the line of the garden bed. Slightly left of centre trace the solid lines of the pattern, omitting the dotted petals.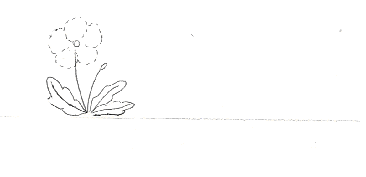 Mount the background fabric and larger piece of calico together in the larger hoop and pull taut before tightening the screw very firmly.
Using one strand of green thread work stems in stem stitch. With the same thread work a row of backstitch around one of the leaves, then fill in leaf shape with slanting satin stitch, working from the centre vein and covering the backstitch which is there to give a firm edge to the leaf. Work all three leaves in this way.
Mount the smaller piece of calico firmly in the smaller hoop. Cut both lengths of wire into 4, lay one short length across the barrel of a pen or pencil and shape into a circle. Pinch the wires together at the base leaving the two long ends hanging, and slide off the pen.
With one strand of paler yellow thread attach the shaped wire to the calico in the hoop with 3 stitches around the circle and a stitch across both wires at the base. Using the same thread buttonhole closely over the wire, through the calico, with the loops on the outside of the wire, the stitches close together and close to the wire. Still with the paler yellow fill in the petal shape with vertical satin stitch but leaving a small triangle unstitched at the base. Fill this section with stitches in the darker yellow, making some of the stitches longer to blend into the pale yellow. Work 4 more petals in this way. When all 5 petals have been worked, cut them out as closely as you can to the outside of the buttonhole stitches and trim off any little whiskers.
At a point on the small circle at the top of the longer stem insert the knitter's needle down to the eye which will open the fabric sufficiently to slide the two wires from a petal down alongside the eye. Repeat this for each petal so they are evenly spaced around the circle. Turn the work over and take a wire from each of 2 adjoining petals. Stitch these two wires to the calico only for a little over 1cm (1/4") with a few overcasting stitches, bend the wires back on themselves and catch with 2 or 3 more stitches back to the centre before cutting off the excess wire. Repeat for all 5 petals.
On the right side of the piece use 2 strands of the darker yellow to work some French knots to fill the centre of the flower, and with the same thread work 3 detached chain (lazy daisy) stitches one on top of the other to form the bud. Work a green flystitch around the bud to attach it to the stem.

Wasn't that easy? Keep watching for the next flower for your garden.

Any problems, please email me: rjfletch@iaa.com.au