Kits Favorite Links My Books My Cabinet
Free Patterns: Buttercup Nodding Lily Little Fillers

Welcome to the wonderful world of stumpwork embroidery!

Hi, I'm Jean, an embroidery fanatic for most of my life in many different techniques, but since I learned Stumpwork that has been taking much of my time and attention. I find it an ideal way to depict our wonderful Australian flora and fauna, as you will see as you read on.

Stumpwork or Raised Embroidery is becoming an easily recognised and popular form of 3D embroidery world-wide. It was used in the 17th Century for ecclesiastical decorations when the raised work was done over small shaped pieces of wood, the 'stumps'. After young girls had learned their basic stitches they would be allowed to use them in various ways to cover a box or casket, and the 3D effect of stumpwork was an ideal medium for this. Several examples from that era still remain in museums. The scenes would often depict Biblical characters or Kings and Queens of the time, or mythical creatures. Proportion wasn't important, and a bird could be as big as a man, but that didn't spoil the charm of these creations. Every space on the fabric was filled, frequently with very humorous touches.

My husband is a keen amateur botanist, and his photographs of our wildflowers have been a source of inspiration for me. We both love our unique wildlife, and his greatest delight is to 'go bush' looking for some rare plant. We've travelled throughout Australia over many years, but unfortunately I've had to retire from that kind of activity, and now spend my time embroidering some of the things we have seen in our travels.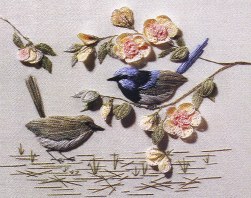 Kit No. 12 - Fairy Wrens in my Garden

For more kits and how to purchase them go to Kits


I never planned on becoming a designer, and never thought of it as a possibility, but after several years of learning from classes at the Embroiderers' Guild, Victoria, I gained enough confidence to try my hand. Now I find designing a very enjoyable part of my work, and have been delighted to see some of my students working out their own designs. My largest project has been a stump-work covered cabinet which took me nine months of fairly solid work to complete. It was a very interesting exercise, and I have used several of the designs as projects in my first book, Stumpwork the Australian Way. Following the success of that book I went on to produce a second, Our Stumpwork World, which contains flora and fauna of North America as well as more from Australia.
Having lived with teachers for a large part of my life I felt that teaching was the last thing I wanted to do, but was persuaded to take a class and found it a really rewarding experience! Over the past few years I have taught many classes in many different venues, and have met some wonderful ladies who have taught me as much as I have been able to teach them. It was very exciting for me to be invited to teach classes on the West coast of the United States of America in June/July 2000, and I enjoyed the trip so much that I hope to get back in 2001, to both the USA and Canada. I made so many friends there, and everyone was so kind and hospitable and sharing, in the way of embroiderers all around the world.
Please believe that there is no difficult stitching in Stumpwork - if you can do basic stem stitch, chain stitch, buttonhole and straight stitch you will have no problems, it's just a matter of placement of the stitches which is fully explained in my book and the kits. You can make a start by trying my Free Patterns.
But be warned, Stumpwork is addictive! Fortunately, though, it's a fairly harmless addiction, and I'm always pleased to meet up with other folk who are as interested in it as I am. If you would like to contact me,

E-mail me at: rjfletch@iaa.com.au

I am always happy to try to help wherever I can!




Sign My Guestbook
View My Guestbook

Back to top